Download free "
Plain reasons, I. For dissenting from the communion of the Church of England. II. Why dissenters are not, nor can be guilty of schism, in peaceable separating from the places of publick worship in the Church of England. And III. Several common objections, brought by churchmen against dissenters, answer'd.,

" by

Owen, Charles

EPUB, MOBI, PDF, TXT, Kindle
---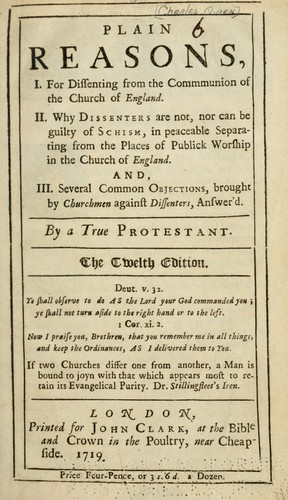 Free Find Ebook
The book was published in

1719
Language:
English
Book description:
Edition description:
The 12th ed. ...
of "Plain reasons".
Publisher:
Printed for J. Clark, at the Bible and crown in the Poultry, near Cheapside
.
Date:
1719.
Place:
London
Number of pages:
36
Language:
English
---
This book describes the following items:
Dissenters > England.,