Download free "
The history of the British plantations in America., With a chronological account of the most remarkable things, which happen'd to the first adventurers in their several discoveries of that new world. Part I. Containing The history of Virginia; with remarks on the trade and commerce of that colony ...,

" by

Keith, William Sir

EPUB, MOBI, PDF, TXT, Kindle
---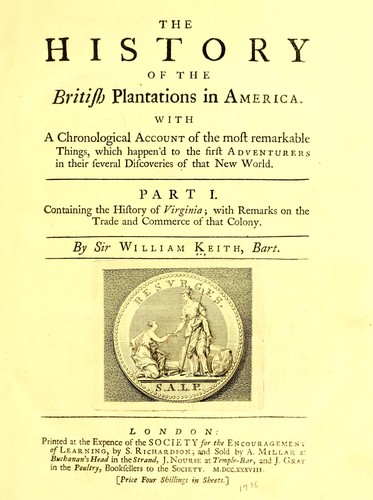 Free Find Ebook
The book was published in

1738
Language:
English
Book description:
Publisher:
Printed at the expense of the Society for the encouragement of learning, by S. Richardson
.
Date:
1738.
Place:
London
Number of pages:
187
Language:
English
---
This book describes the following items:
Virginia > History > Colonial Period, Ca. 1600-1775.,